Gentilly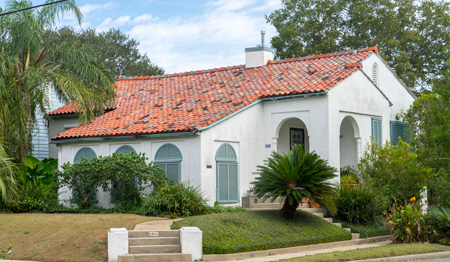 Gentilly sits on a natural ridge created by Bayou Sauvage, a former flood plain. California bungalow style houses, most of them constructed from 1910-1940, English cottages, and Spanish- and Mediterranean-revival homes constitute this national historic district, the first 20th century New Orleans neighborhood to be listed. Since the levee failure following Hurricane Katrina damaged much of the housing stock, many new construction homes have been built.
The high ground and natural drainage with easy access to the city made this a prime section for development shortly before World War I. The Pontchartrain Railroad, built in 1830, provided transportation through the Gentilly district. It ran along Elysian Fields to Lake Pontchartrain.
The Gentilly neighborhood is bounded by Lake Pontchartrain to the north, France Road to the east, Bayou St. John to the west, and the Louisville and Nashville Railroad to the south. It is adjacent to 1300-acre City Park, the largest park in the city.
Settlement was originally mostly confined to along the long narrow ridge, plus Milneburg, built on elevated piers on the shore of Lake Pontchartrain. Most of the ground between the ridge and the lake was swampy. The first residential section adjacent to the ridge, Gentilly Terrace, dating to the early 20th century, was built by excavating and piling up the earth in the shallow swamp to create blocks of terraced land where houses could be built. With the development of improved drainage pumps, land reclamation and higher lakefront levees, the land extending from the ridge to the lake was developed by the mid-20th century, and the entire area popularly came to be known as Gentilly.
Today, the ambiance and architecture of Gentilly is a refreshing departure from the din of the city. It is home to Dillard University and Southern University at New Orleans and has is one of the most racially diverse neighborhoods in New Orleans. With a diverse mixture of residential properties, commercial developments and schools, Gentilly remains one of the most unique and charming neighborhoods of New Orleans.
Your search did not return any results. Please try to broaden your search criteria or feel free to try again later.